Mercedes soundly beaten in qualifying; "It certainly does look like the tide has turned," says Sky F1's Damon Hill
By Pete Gill and James Galloway in Shanghai
Last Updated: 11/12/18 3:20pm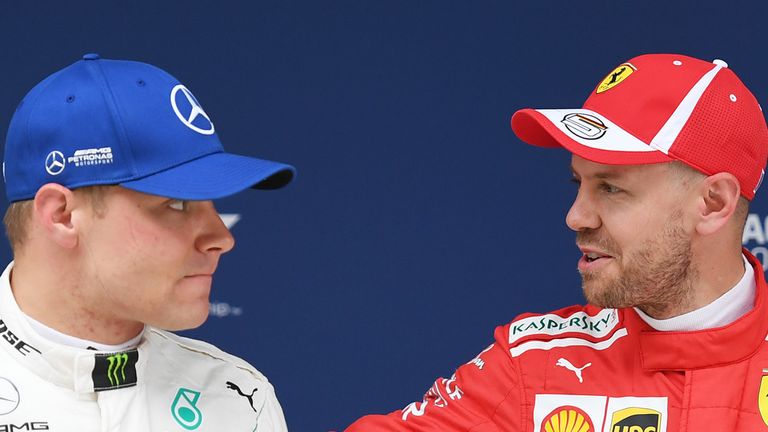 Mercedes believe the "fundamental pace" of their car remains strong despite the sudden turnaround in fortunes compared to rivals Ferrari.
For the second race in a row, neither Mercedes car will start Sunday's Chinese GP – underway at 7.10am, exclusively live on Sky Sports F1 – on the front row after losing out to Ferrari rivals Sebastian Vettel and Kimi Raikkonen in Shanghai.
Sponsored link
No more Car Loan. For owning a Car.Zoomcar ZAP
Recommended by
Remarkably, on a circuit where Mercedes have been on pole for the previous six Chinese GPs, Ferrari beat the quickest Silver Arrows by over half a second.
Furthermore, Mercedes' defeat represents a stunning turnaround since the season-starting Australian GP when Hamilton took pole position by six tenths of a second.
Mercedes v Ferrari: The Qualifying Turnaround
| | | |
| --- | --- | --- |
| Race | On pole position | Fastest Mercedes to fastest Ferrari |
| Australian GP | Lewis Hamilton | +0.664 |
| Bahrain GP | Sebastian Vettel | – 0.166 |
| Chinese GP | Sebastian Vettel | – 0.530 |
It led Sky F1's Damon Hill to state: "It certainly does look like the tide has turned for the first time in a long time in this turbo-hybrid era. It's like empires rising and falling and maybe Mercedes are on the wane and the new Ferrari era is about to come back."
Whereas in Bahrain a week ago Mercedes' defeat could be attributed to the team's longstanding relative weakness in hot conditions, the world champions cited the reverse – a dive in temperatures in Shanghai on Saturday – as having the same impact on the W09's performance.
Vettel on pole, Hamilton fourth
Vettel: Ferrari pace 'unbelievable'
"The car doesn't lose speed or gain speed from one race or one session to the other, the fundamental pace of the car is good," team principal Toto Wolff told reporters. "With us, it is about getting the tyre in the right window – the never-ending story. What we have suffered from in the past from overheating has happened the other way round today of really always being too much on the cooler side.
"That has triggered a lack of grip for us today and you can see Ferrari has put their tyre in the right window and the car is just like on rails, similar to what we had in Melbourne."
View image on Twitter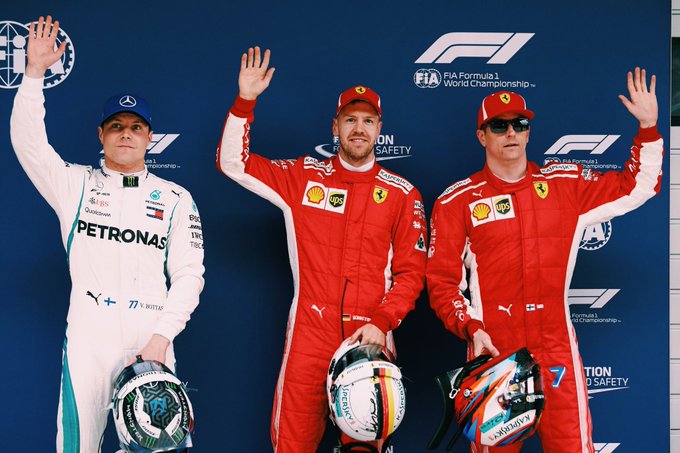 Mercedes-AMG F1

✔@MercedesAMGF1

A red letter day for the Reds… but we'll be back! #DrivenByEachOther #ChineseGP

 · Shanghai, People's Republic of China
127 people are talking about this
Twitter Ads info and privacy
Is the Mercedes tyred-out?
"Ferrari just had a faster car," concluded Sky F1's Martin Brundle after a qualifying session in China when Mercedes only found an answer to the Scuderia during Q2 when the top four runners all used the soft compound.
That snapshot chimed with the tendency of recent years when Mercedes have often found peak performance over their closest rivals on harder tyres.
"I think we have seen this season already that the softer we go the less we get gains," Bottas told Sky F1.
But as the Finn immediately added, the W09's relative struggle on Pirelli's softest tyres could not fully account for the half-second deficit to the pole-siting Ferrari.
"Maybe some part of it can be from the tyres but I think some of it must come from the car," continued Bottas. "There's a little bit in terms of getting the tyres absolutely perfect for the lap – but it's not half a second."
All of the top four qualifiers will start Sunday's race on soft tyres before a likely switch to mediums. Although that tyre deployment ought to play to Mercedes' performance advantage, the anticipated one-stop strategy will severely curtail their tactical options.
"Ferrari learnt from their mistake in Bahrain not to let Mercedes have that opportunity again so they'll go for the one-stop. That will make it difficult strategy-wise," former world champion Nico Rosberg told Sky F1.
"The only hope Mercedes really has is temperatures coming up, that suddenly their car works a lot better on the harder tyres and with the temperatures. That could be their only chance."
And it's a chance Mercedes themselves are pinning their hopes on to combat Ferrari's superior qualifying pace.
"Tomorrow will be the proof of concept. If not, we have to understand," admitted Wolff.
"But the forecasts have different temperatures, 20 degrees more track temperature, and it's a long race. That could make quite a difference."
Is the Ferrari car getting enough credit?
While the temptation after Mercedes' seismic qualifying defeat might be to focus on their weaknesses, the mistake would be to overlook the general excellence of the Ferrari car.
"They have a really strong car," accepted Bottas. "We can see it, especially in long corners, Turn One-Two, they make some good gains to us and obviously not without any speed difference on the straights, they can keep the gains they make in the corners."
And Hamilton is not holding out hope of being able to challenge the front-row starters in Sunday's race.